Vision
LINK NPO-LAWYER : To construct a hub of legal support for Non-profit Organizations (NPOs), in order to contribute to healthy development of the Korean society.
Mission
Lawyer : Organize and foster the 'NPO Legal Support Lawyers'
Improve : Participate in legal reform for NPOs.
Network : Establish a network of NPOs and lawyers matched one-on-one.
Knowledge : Conduct legal education and publish legal manuals for NPOs staff.
Organization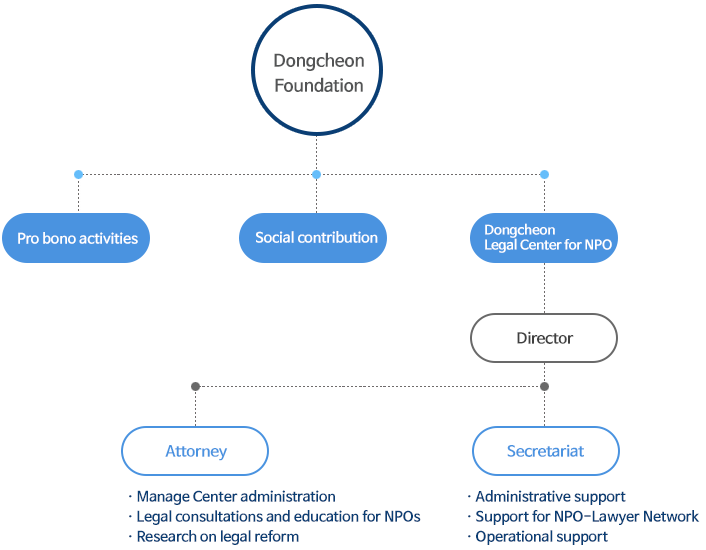 Overview
What we do
Support and promote diverse NPO-related pro bono activities.
Conduct regular NPO Legal Support Training Program for lawyers.
Conduct Senior Attorney Pro Bono Program to support their pro bono activities for NPOs.
Legal support for NPOs.
Run one-to-one NPO-lawyer matching system.
Establish and maintain a legal support network for NPOs.
Capacity building for NPOs.
Conduct legal education for NPO staff.
Publish manuals for establishment and operation of NPOs.
Legal reform for NPOs.
Engage in issue-raising activities and researches on NPO regulations.
Support legal reform for NPOs.
How we work

Members
Wook Yoo, the head of Center
Sihyun Song, Attorney T. 02-3404-7539 E. sihyun.song@bkl.co.kr
Junil Nam, Communication Team Manager T. 02-3404-7398 E. jinam@bkl.co.kr